Because of the constant negative news.. Lately I've been spending my few hours searching around at various
locations on Google Street View around several states.
Yeah.. I know, it's evil Google. (bunch of spying creeps). What I look for is old store buildings and old houses spread out across our country.
The type of vintage buildings our ancestors used to build over 50-100+ years ago in cities and older towns.
Spotted this dude walking his dog, and thought it was a good unintentional shot by the camera car.
I Lol'ed at it wearing a handkerchief around it's neck.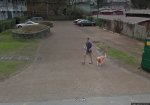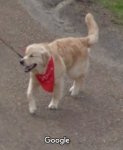 Here's a close cartoon character drawing someone had posted, which I thought sort of had resemblance: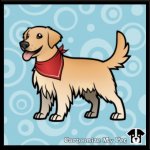 ** Yeah, this is probably seen as a dumb topic. Just wanted to lighten the mood from the usual daily crap.