Rest In peace sir.
https://www.weaselzippers.us/404399-100-year-old-bugler-albert-madden-who-played-taps-at-countless-military-funerals-is-laid-to-rest/
Dapandico | December 3, 2018
Via Stars and Stripes:
Albert Madden played taps countless times at military funerals during the past century.
On Friday afternoon, the solemn melody was played for him during a funeral with full military honors and a three-volley salute at Massachusetts National Cemetery.
Madden, 100, a U.S. Army veteran of World War II, the Korean War and the Vietnam War, died at his Hyannis home on Sunday.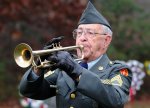 "I think he would have been proud of the ceremony," said his son, David Madden, of East Sandwich. "The military played a very big role in his life."
In addition to his service to the country, the elder Madden leaves behind a musical legacy that began as a child playing the bugle, trumpet and coronet and lasted a lifetime.
He played throughout the world as a member of the Army's 9th Infantry Division Band, and back home with the Barnstable Town Band.
While he could certainly play the pop tunes of the big band era and beyond, it was his rendition of taps at veterans observances, memorials and funerals for which he will be most remembered.
At 92 years old he was invited by the Pentagon to play taps on arguably the melancholy bugle call's biggest stage: Arlington National Cemetery.
"I'll be the oldest bugler, using the oldest horn, to ever play taps at the Arlington cemetery," he told a Times reporter in 2010.
He even played the horn at his own 100th birthday earlier this year, according to his son.
World War II veteran John Kelley, 92, of Dennis, braved the late-November chill to bid farewell to Madden.
"He was a very dedicated man," Kelley said. "He played at every single veteran's memorial event on Cape Cod."
The honor of playing taps at Madden's funeral went to longtime friend Daniel LePage, of Dennis, who drove him to the engagement at Arlington eight years ago.
Keep reading
(link of article).